Culture Vulture
Secret Speakeasy
Sunday Feb 5th 2023
7:30pm - 9:30pm all ages NYC time zone
Live in Soho & virtually whatever suits you!

The Museum of Interesting Things
takes over a Soho Loft for a special

16mm short film Fest
Art films, Experimental films & More!

In the spirit of a true Speakeasy
Anything can change so...
Please check this website before leaving.

Special Treat:
Art Historian Abigael M.
Talk on Art History
& Artist Denis Woychuk of KGB Bar NYC


The Museum has a show featuring
Original Rare 16mm short films from the
early 1900's to the 1960's & more!


To join the email list for Events/Monthly Speakeasy and
New Items click here and let us know

The Museum of Interesting Things
177 Prince Str
$10 to help the museum :)
Between Thompson & Sullivan street
in Soho NYC 212 274 8757

Advance Tickets:
https://culture_sse_0223.eventbrite.com

Yes, the rumors are true, we are shooting part of
a pilot for a possible show at the gig. smile ;)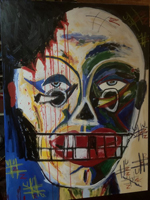 Artist Denis Woychuk of KGB Bar NYC